In the case of belly button piercing jewelry, the dangle is held by two small rings located at the bottom of a curved barbell.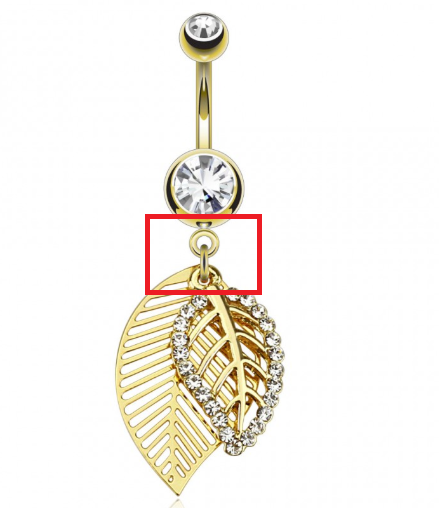 One ring is a solid ring belonging to the structure of the bent bar, and the other one is a small ring that links the dangle and the fixed ring. This set of rings is standard for navel jewelry with dangles.

This extra "linking" ring is easy to bend if the dangle is pulled too hard

.

A bendable link is put on purpose so that the dangle falls off rather than having your belly button skin torn (due to high pressure).




If you pull a dangle too much there are only two possibilities: either the dangle falls off, or your navel is torn. And, since you want to avoid injuries in your piercing hole, it is better to have the dangle suffering the consequences. Mostly, such a "burden" on the dangle occurs somewhat unconsciously: it can easily get tangled (in clothing, towels, bedding, on our loved ones, or doing sports, etc.). Especially during sleeping.

But don't worry, as you can quickly

fix it yourself.

If the solid ring is still on the jewelry (meaning you're only missing the flexible one), you can join the dangle again. It is flexible and just takes a small set of pliers to be bent back into shape.